Are you getting married during the no-dancing COVID rule in Singapore? Are you worried about how you will entertain your guests in these uncertain times? These times are definitely not ideal for wedding celebrations but as always we've got you covered!
If you plan to make your wedding an unforgettable event full of excitement and laughter even in Pandemic, here are some of the best wedding entertainment ideas to include on your big day!
1) VIRTUAL MUSIC
There is nothing that music cannot light up. For your wedding or your reception and even your cocktail night, you can play music at your wedding. The evening can start unraveling with soothing acoustic songs and later can play your favorite jazz music to get everyone on their toes ready to dance it off on their seats! You can also hire a Pianist, Depending on the vibe you're after, a pianist has the potential to make your special day memorable. We cannot do live music in Singapore due to current situations. So, Virtual music or music is a good option to go for!
2) QUIZ IT UP
A quiz is a classic game at any wedding celebration that never fails. Make questions about your cousins, friends, and other family members, and let the crowd scream some guesses. You can even create a presentation with photographs from your childhood and include the childhood photographs of your guests as well. Let everyone keep guessing who is who! This is sure to be a lot of fun and you will enjoy it to the fullest while you keep everyone entertained in these sad times.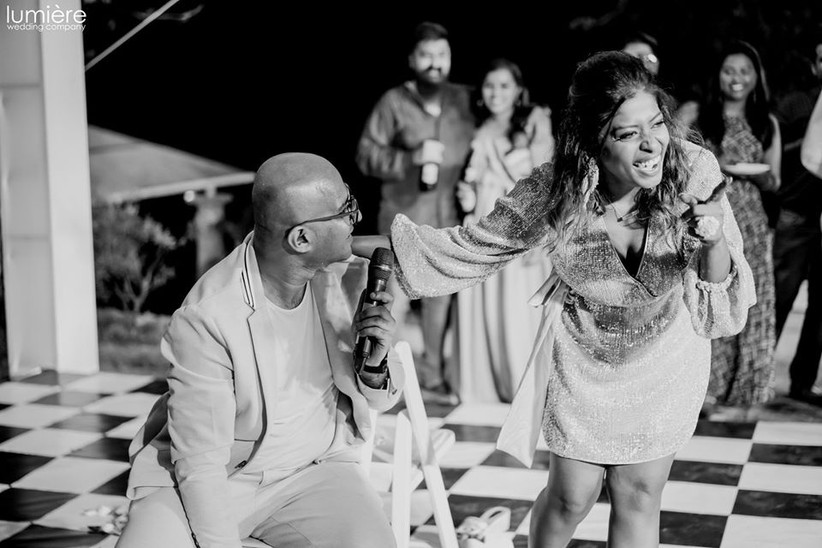 3) HAVE TABLE GAMES ACTIVITY
Table games are becoming more and more popular at weddings, especially during the current restrictions. What better than a funny round of trivia about the newlyweds, and the prospect of winning an interesting present? Other table activities which you can include are Wedding Shoes and many more.
4) PLAY A SLIDESHOW/ VIDEO
It's undeniable that everyone loves a good film, whether you're a movie buff or not! So, why not create a cinematic experience for yourself and your guests? Hire a professional video editor to put together a heartfelt video, using your own pictures and videos. We can guarantee that tears will be shed and that the video itself will be something that you will cherish for years to come.
5) A NEW PRE WEDDING SHOOT- YOUTUBE STYLE VIDEO
It is a fresh idea to entertain guests during the wedding banquet. Since nowadays weddings have to turn into a quiet affair, as guests are discouraged from mingling and talking loudly, videos have become an engaging alternative for entertainment. They get to know you better as a couple too.
We had collaborated with Yomo to experience our client's Youtube style of Wedding Video. Check out the sample that Hellen, our Creative Director did with her husband, Winston.
6) DECORATE YOUR GUEST WITH FLOWERS
Here's a unique wedding idea we love (and your guests will too!). You can set up a stunning Fun Flower Stand and decorate your guests with fresh flower accessories including corsages, boutonnieres, flower crowns, flower hairbands, or flower hair combs.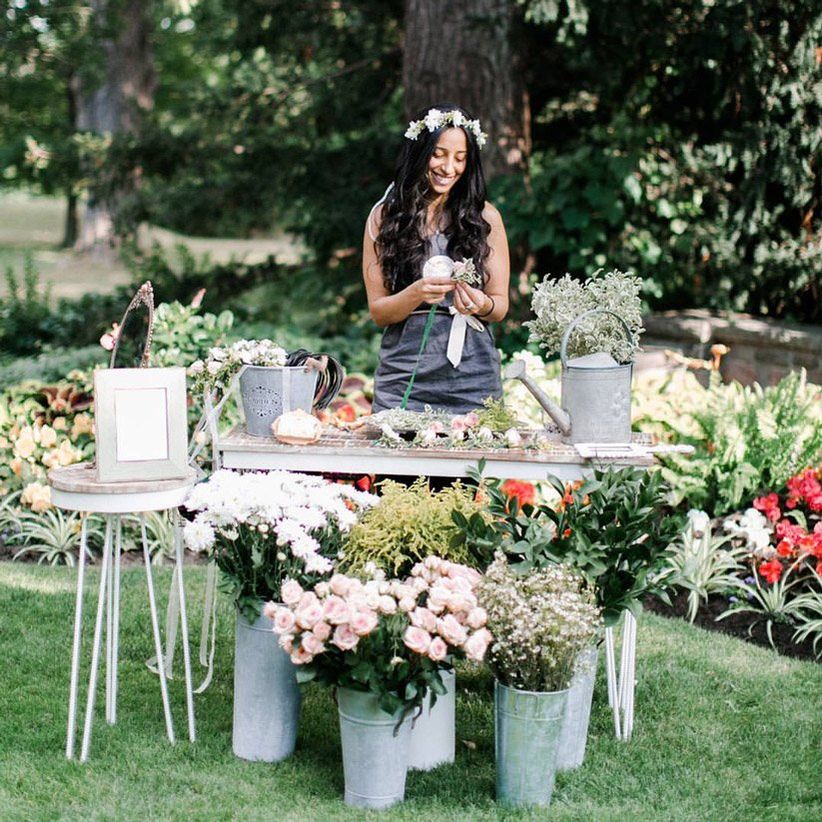 7) EMCEE
Everyone has a little story to tell; a little tale of embarrassment, the first kiss, a fashion statement that made little sense at the time but still haunts them, etc. So, why not share those hilarious memories with your loved ones? Wedding emcee's make sure that each performance is tailored to you. Simply brief them, and let them work their magic. After all, there's nothing better than seeing your guests have a hearty laugh! And also Emcee will guide the guest in coordination as well.
8) THEME YOUR WEDDING
There are so many different ways in which you can theme your wedding. From something simple like just choosing a matching color scheme to a more all-out affair of an American or country-style theme, bringing everything together under one theme is becoming more and more popular. Other trending themes in Singapore are Bohemian Theme, Rustic Theme, and many more.
If you wish to find out more about how you can lighten your wedding in these uncertain times, book a free consultation with us or drop us a text at 96694213. We are looking forwards to make your big day happen!