There is a lot of decisions that need to be made when planning your perfect wedding. One of the most important choices you and your fiancé will have to make is about the stationary. Your wedding invitation is the first impression that your guests will have about your special day, and it gives them their first glimpse of what to expect.
Choose a wedding theme
Choosing a wedding theme is a great way to inject your own style and personality into your big day. You may decide on your theme based upon the style of your venue or you may wish to center your wedding around your shared interests as a couple. Whether you see yourself as a fairytale or a boho bride, take the time to browse through wedding invitation designs online to get a sense of what type of invites suits your style and theme. A good place to start is by setting up a Pinterest board to keep track of your ideas, searching for key terms related to your theme, building on the ideas of other brides and grooms.
Pick a wedding colour scheme
If you have been dreaming about your big day since you were a little girl and have just been waiting for him to pop the question, you may already have a colour scheme in mind before you start looking at wedding stationery. Otherwise, it is a good idea to start discussing this as a couple early on in the planning stage.
The colours and hues of your desired colour scheme can form the basis of your wedding invitation design. Narrow down your choice of wedding invitations by using the colour filters usually provided in online catalogues. Bear in mind that the colour of some designs can be adapted to suit your needs so do not hesitate to ask your stationery supplier before you rule out a design that does not feature the exact blush pink or navy blue you are looking for.
Get inspired by your venue
If your wedding theme and colour scheme don't give you enough wedding stationery inspiration to go by, then look to your venue to help decide the style of your invitations. Given that your invites are the first glimpse of your wedding, you can use them to give your guests a sneak peek at your venue!
Each invitation design can reflect a specific ambience. Embrace the defining features of your venue, thinking about the colour and style of the décor. Minimalist invitations are a perfect reflection of a clean-cut industrial venue such as warehouse space or brewery, whilst rustic wedding invitations with floral designs are perfect for a countryside wedding.
Think about the season
Inspiration can also come from the time of year that you are getting married. Many wedding venues are transformed by the seasons, with a countryside venue having a completely different feel from the height of spring to the depths of winter. Bright colours and floral wedding invitations are perfect for a spring or summer wedding, whilst cool colours and festive motifs will evoke the joys of your winter celebration!
Try wedding invitation samples
Not sure where to start when it comes to finding wedding invitations to match your wedding vision? Order wedding invitation samples from various companies and stationery designers to get a feel for the different options out there; including paper types, printing techniques and formats!
Bear your wedding budget in mind
Every penny is precious when it comes to your wedding budget and the cost of wedding stationery can add up quick, so bear your budget in mind when choosing your invitations and look out for any hidden extra costs. Something that some brides and grooms forget when planning their budget is that you should count one invitation per household and not one per person! Prices will vary depending on the paper type and formats you choose, and bespoke invites designed to your exact specifications will cost more than a design that can be personalised online.
If your dream wedding invitations come in a touch over budget, then look for other ways to keep the costs down. Ordering your wedding invitations well in advance can help cut down on postage costs seeing as you can reach for the 2nd class stamps instead of having to fork out for 1st class post. Hand delivering invitations is also a great way to save on postage so have your invites ready before the next big family event to get the bulk of them on their way.
Get your dates straight
Having the important dates to hand will help you decide when to send out your wedding invitations and will make sure that you include the important information on your invites. Aim to send out your wedding invitations around three to four months before the big day, leaving even more time if you are hosting a destination wedding, for which your guests will need to organise flights and accommodation. Ask your wedding stationery supplier how long it takes for wedding invitations to be printed and dispatched so that you leave yourself enough time!
Your RSVP deadline also has an important part to play, as you will want to give your guests around a month to reply to your invitations. Set your RSVP date far enough in advance of the final cut off for suppliers so that you have a bit of time to chase any unanswered wedding invitations.
Find the perfect wedding invitation wording
Finding your wedding invitation design may be as simple as love at first sight, but that still leaves you to craft your wedding invitation wording. Your wedding invitation wording sets the tone of your big day and lets your guests know whether they will be attending a more formal or relaxed affair. A simple change of wording can transform the same wedding invitation design from a classic country house wedding to a trendy tipi wedding, or from a day to an evening-only invite.
There is plenty of wedding invitation advice out there to help you choose the best text to reflect the formal or relaxed feel of your big day and we are sure that your wedding stationery supplier will be more than happy to help.
Add a personal touch
Beyond the initial design, there are plenty of ways to make your wedding invitations more personal! Use your names or initials to create your very own wedding insignia or opt for photo wedding invitations featuring a romantic snap of the two of you.
You can also dress up your invitations with various accessories to make them that extra bit special. Seal your envelopes with matching wedding stickers or tie a piece of vintage lace around each wedding invitation for a more personal touch. The little details can make all the difference when it comes to weddings!
You can also make your wedding invitations personal for your guests by writing out their names by hand, (which will also help you make it clear whether plus ones and children are invited to the wedding). Get practising your calligraphy or draft in a member of your bridal party who has lovely handwriting.
Start thinking about the rest of your wedding stationery
Your wedding invitations may be your first piece of wedding stationery, but they aren't the only item of stationery on your checklist. There is a whole host of on-the-day wedding stationery items to consider before making it all the way to your wedding thank you cards! Whilst there is no obligation to make sure that everything matches, coordinated wedding stationery does have a true wow factor. You may, therefore, want to think about the matching menus and place cards when ordering your wedding invitations to start envisaging your wedding decorations.
Coming up with your wedding vision isn't always easy as inspiration can come from so many different places, but hopefully going through these top ten steps to perfect wedding invitations will help you to tick your invites off your checklist with ease. Keeping track of everything that has caught your eye in your quest for the perfect wedding invitations can be difficult so remember to record your ideas in your wedding planner or flesh out your wedding ideas by pinning your favourite images to your Pinterest boards!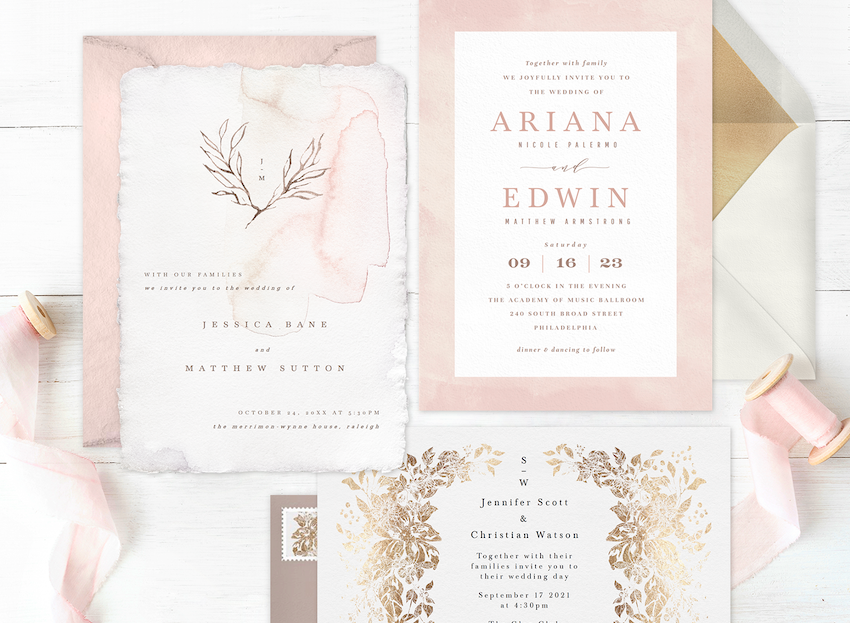 We also provide Wedding Invitation Cards and stationary, This is a part of wedding Branding. We did for many couples of ours.
If you wish to find out more about how we can style your Wedding Stationery, book a free consultation with us or drop us a text at 96694213. We are looking forwards to making your big day happen!