Contrary to what Hellen thinks, I am not good in writing.. reports and minutes maybe, but definitely not blogs. . Would I be like this guy?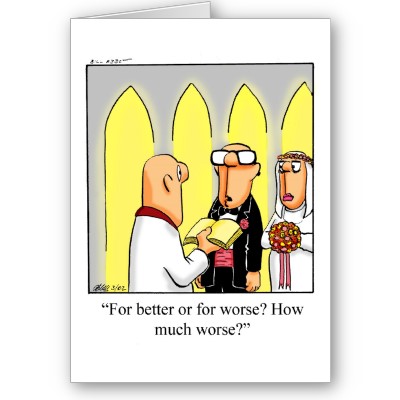 Many says marriage is hard, but I am determined to make this work and enjoy every moment of it.. starting with the wedding! And in this preparation phase… there's 5 things I love:
1. Hellen's vision: It is wonderful that she already know what she wants. She has already envision how the wedding will look like.. so I am all for it!
2. Banquet preps: The venue, ambience, feedback and especially the coordinator thus far have been outstanding. We will talk more about the details in future entries!
3. Globalisation: It's great that Hellen is from Indo, as her thinking is not confined to Singapore. I believe we will have our photoshoot overseas and our wedding will be un-traditional.
4. Forward Thinking: We are not leaving things to the last minute and we already have plans for a lot of stuff. That's good, although some will say ideas and plans changes a hundred times before the actual thing, but oh well.. better early than late.
5. This Blog: This blog is a great idea! So we can really document our journey.. and the name of the blog rocks! Why? Cos it is a tongue-twister. Try saying welovelaughkiss 10 times in a row! Now that's a challenge!