Out of all the outdoor venues I have checked out, only 2 places wow-ed me right off the bat. They are One Rochester and Raffles [email protected] Canning. I may not have the best pictures to represent both venues, and I will try to find the pictures to do them justice.
First, One Rochester:
One-R is one of those popular places you will find all around the forums when you talk about a nice garden wedding. It consists of a bungalow house and an outdoor garden in Rochester Park. We did meet up with Janet from One-R and she gave us a good impression as well. She was rather candid and did not hide any details from us. From the short time with her, I know that we can use the bungalow to have the HM (with chairs if required, or we can choose to use the sofa and stand around), which is conducive enough for the Pastor to preach and wedding video to be shown. The winning point is definitely the garden, and only pictures can do it justice.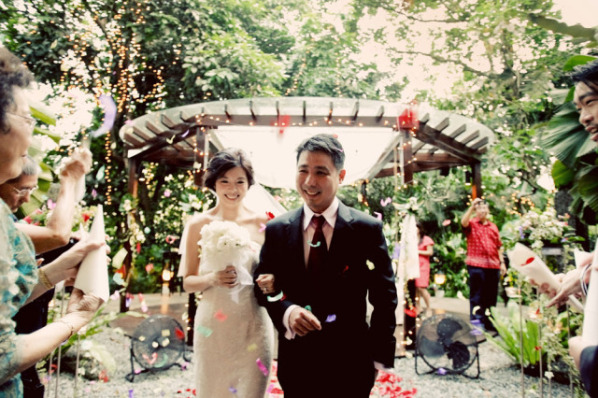 A very nice march out pic, something that I want to have too! I can see the happiness emanating from the couple and friends.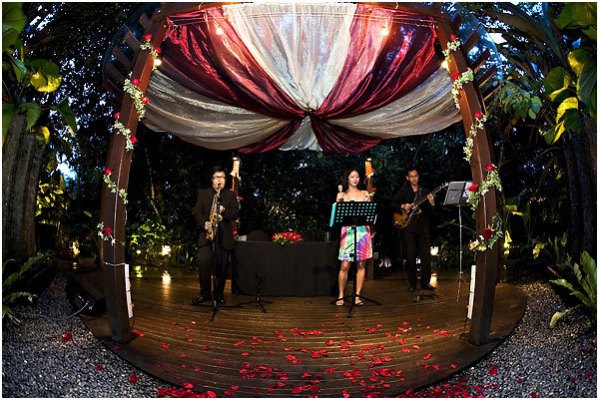 This black-scarlet-white theme is more suited for the night, and provide a more elegant feel to the occasion. The band performing here is A Little Dream. Very popular with wedding couples.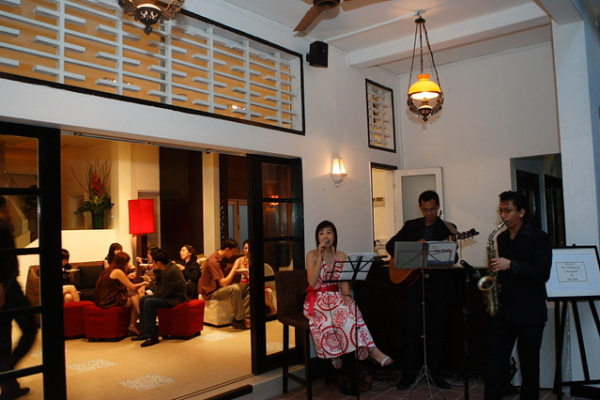 This shot is taken from the garden. Nothing really special, but still a nice chill out place. For the HM, air-con is important after the solemnization in the garden sun.
Actually… secretly (not anymore!!).. my personal fave is Raffles [email protected] Canning. Hellen showed me the picture and my first thought was.. THAT'S THE PLACE!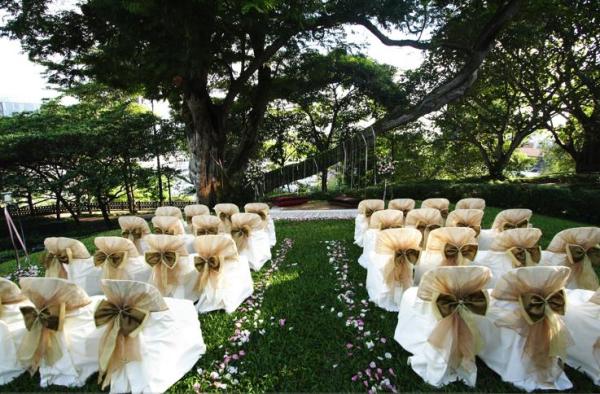 I love the tree.. acting as a backdrop to my wedding..
Sadly, it is currently undergoing renovation, and frankly, we won't know what to expect when it is done. It looks pretty similar to Burkill Hall, and the greenery feel is cool. If it is meant to be, I am sure God will make it happen. Burkill Hall, One Rochester, Raffles House, Rasa Sentosa are really nice places, and if you are contemplating on a outdoor venue in Singapore, those are my recommendations.
For classy ballrooms, my recommendations would be Amara Sanctuary, Singapore Arts Museum (my ex-cell group leader's (Linda) wedding was beautiful), The [email protected] Museum of Singapore and Blue Room at the Arts House.
This ends my outdoor wedding venue field report.. after visiting the sites again, I hope to come back with more info!