What's a groom to do when he starts to plan for his wedding? Check the Street Directory? Find a fortune-teller? Get an astronomy book? In this day and age, INTERNET is the answer! The most important thing is to find the best website which provides the most comprehensive information.
Styleweddings.sg and weddingonline.com.sg are pretty good sites, but IMHO, the premium website to refer to would be SingaporeBrides.com https://singaporebrides.com/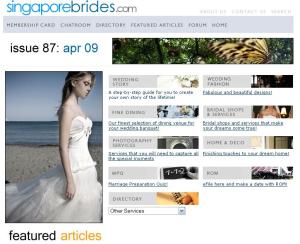 Other than the sexist name (why not SingaporeGrooms??), I would say most Singaporeans come here for their wedding questions. Some plus points:
1. Very comprehensive lists of wedding photography, bridal studios, banquet locations available.
2. A nice and simple-to-follow step-by-step guide for wedding preparation.
3. Active forum which covers a wide range of topic from Honeymoon to Wedding Cards to even suggested Wedding Songs.
However as a user of the website, I got to be true and comment about some short-comings:
1. The lists may be very detailed, but it is not super updated. For example, the banquet location list contains the prices for each hotels and restaurants, but rate will most probably be 2009 rates. For a 2010 Groom-to-be (GTB), I will still need to contact the restaurants personally to get the most accurate rates in 2010. There's nothing wrong with that though, as personal experience with the banquet manager is crucial and beats referring to the site anytime.
2. Ok… this is a bit hard to say.. but frankly the forum threads are a mess. It is very hard to navigate the mountainous amount of threads. They are in alphabetical order, yes, within each thread the posts are archived according to dates, yes.. but still.. it looks messy.
Let's say you want advice on a banquet location with 20 tables.. unless you have a specific location in mind already, asking a generic question such as "Any advice on a hotel with 20 tables at $850?" will ensure your post be lost in the shuffle. It is hard to explain, but when you look at the forum, you will understand.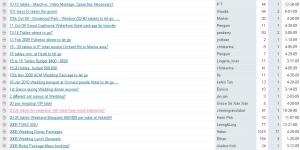 Sample Page of SingaporeBrides.com Forum
"A question pls, I want a hotel with 30 tables and pillarless ballroom… eh.. who can answer me? Anybody there? Hellooooo??"
OR
"I wonder if anyone answered my question yet… What??? No answer since 2007??"
Fellow GTBs, do not be shy in surfing around this site. Although the vast majority of the forumers are Bride-to-bes (BTBs), it is great if you can show you care about the wedding by giving your opinions (intelligent ones that is) to your fiancee. Also, I believe GTBs are going to put on the practical cap, therefore we need to do our homework before approaching any wedding vendors to avoid being 'roberted'. As a technical guy, I learnt about the Carats, Cut, Color and Clarity aspects before getting a proposal ring. For a wedding which is a much bigger project, research is the definite foundation.
NOTE: The forums should not be your only resource and not everything should be believed. There are some 'plants' in the forums who specialises in 'sabo-ing' competitors. They will put in fake reviews to waver your resolve. I advocate personal experience and interaction over any comments from fellow forumers. Do take any reviews with a pinch of salt. They are good information nonetheless but should never affect your final decision until you have seen it with your own eyes. In addition, there is no way you can please everybody. So when sourcing for a banquet location, bridal studios, photographer, solemnisation venue, the most important is: You and your fiancee must love it. At the end of the day, a wedding is for the 2 of you.. you can't please everyone.