Photo Credits: artsketches99.com
I am so overwhelmed right now. The cause : The Wedding Gown.
Honestly speaking, wedding gown used to be my secondary priority when compared to venue or decoration or stationaries. But now that I finally exposed myself to this segment, I am super-overwhelmed. I began to browse wedding gown online nonstop, hoping to land a hidden treasure (read : Monique Lhuillier's dress for less than 1500 USD- used). Moveover, Vera Wang! Monique and Amsale are in my top picks now! I researched intensively and even drew all the silhouette types, neckline, etc for my references. I'll post it here in the next post.
However, I am becoming too engrossed with buying online frenzy – http://www.oncewed.com and http://www.preownedweddingdress.com – until Winston uttered his concerns and my Maid of Honor ( Presenting : Katryn Kusuma ) strongly suggested me to try the actual wedding gowns. I am really close to buying the beautiful full Chantilly lace, Claire dress by Monique Lhuillier *dress pictured here*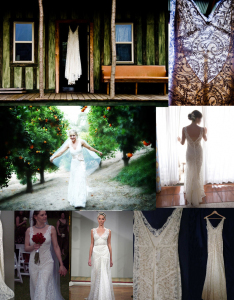 Well, after exercising walk-ins to a few bridal shops, I started to get the vibe of "the wedding gown". Frankly, I am kinda feeling abhorrence to big wedding gown, I strongly dislike those wedding gowns with full bling bling….with due respect to all the brides who fancy big ball gown, I don't mean to belittle your choice of the gown, it's just not me. Most of the bridal shop attendants told me, simple gown doesn't give you the feeling of wedding gown. I have to agree on that. Big princessy gown will look nice in grand ballroom, but not on outdoor venue. I will have my share of "Real Wedding Gown" aka-A-Line, full Duchess Satin with minimal embelishment.
Imagine my frustration to see most of these attributes in all the bridal shops we visited. Fortunately, we walked in to our last stop at Di Gio Bridal. Thanks to Josephine, the very attentive and pro-active consultant and Casey the passionate designer. They restored my faith in bridal shop, there are still hope in bridal studio!! I want a simple-classic-elegant-no fuss wedding gown, Josephine gave me a range of gowns made with Duchess Satin and only Swarovsky embelishment along the top. I love it! Winston also loved it. I always imagined my wedding gown to be just simple satin, strapless, floor length, no beads. Perfect.
It changed the way I perceived Bridal Shops. I guess some carries simple, elegant, not over-the-top wedding gown. So the next on the list is to find the bridal shop that suits my taste.
I know that  although Winston doesn't prefer lace-like Claire dress, but he leaves the final say to me. But with this new decision of mine, he's secretly relieved. I admit that Claire dress might not suits me. But I love the paisley pattern, the Chantilly lace and no fuss. Since my Holy Matrimony will be held outdoor, I need a simple yet classic gown. *I'm still hoping for that dress*
I'm saying goodbye to my oncewed or preownedweddingdress, now the quest of finding "The Gown" is fixed upon hundreds of bridal shops in Singapore.