1st December we had the honour to coordinate and style Carla and Boom's beach wedding at Glass House Sentosa. We have to say it was incredibly beautiful, and that's not because of us! Carla and Boom were the perfect emcees for their own wedding, injecting joy, laughter and just the right amount of happy tears. Just look at how beautiful Carla was and the love in her eyes when reciting her wedding vows to Boom.
Getting that beach decor right:
Flowers were not on the forefront of this special wedding! Instead, the couple had decided on foliage like palm leaves and split-leaf philodendrons, perfect for a beach wedding. Hence the flower arch we created for them was a vision of minimalistic green.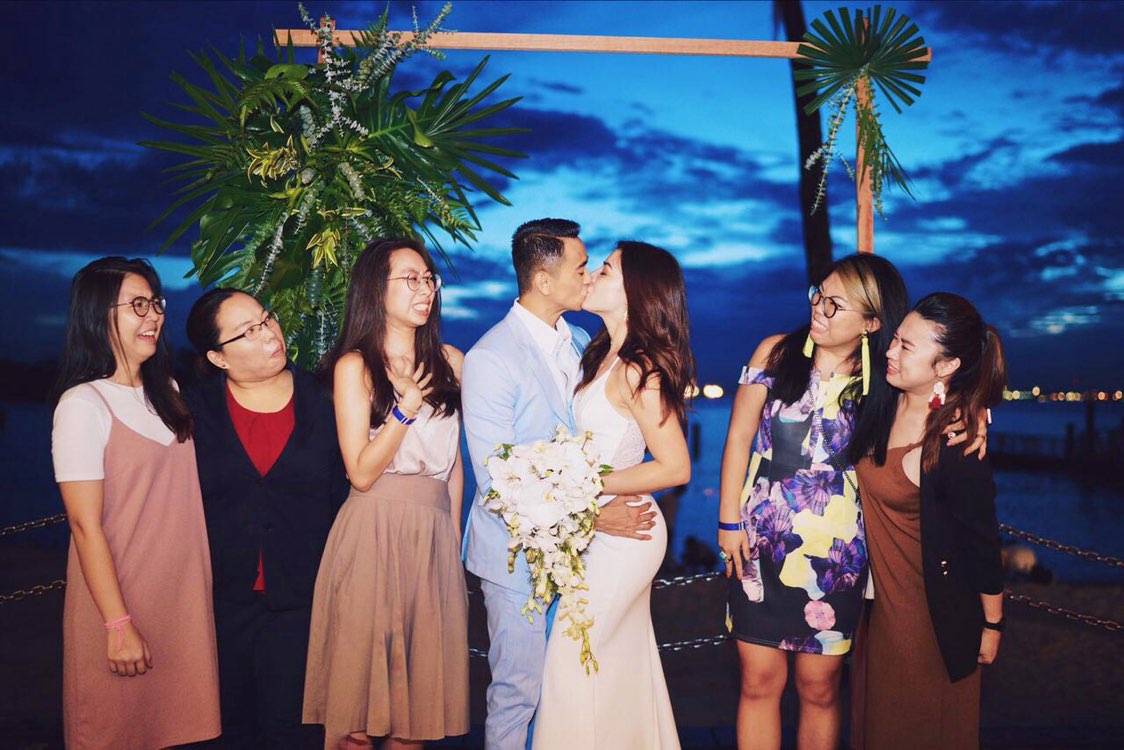 You can tell the couple had a sense of humour when their march in song was 'Under Pressure' by Queen.
However this beautiful set up was nearly made impossible by the rain. Note to all the December weddings: always have a foolproof wet weather plan. We were drenched moving all the furniture in because of the rain and nearly destroyed the arch in the process. Thankfully we only lost one or two sprigs of eucalyptus, which was expertly shoved back into its spot.
Pro bride tip: keep your amazing cascading orchid bouquet by having a second smaller and lighter bouquet for the bouquet toss! The only flowers featured in the decorations were white orchids, simple yet tied in with the tropical theme beautifully.
Sparklers for a beach wedding:
Carla and Boom didn't have a dream wedding in their heads, they wanted something simple. But they did have a dream wedding photo, they wanted a photo with everyone holding sparklers.
It was a sight to behold. Just the right around of playfulness and breathtaking splendour. What you can't see in this photo was the frantic scramble to light all the sparklers at the same time. Carla was shouting that her sparkler wasn't lighting, another guest was shouting that hers was already lit, some had more than one sparkler and had a higher chance of getting one lit first. But despite the panicky moment that photo was worth it.
Wedding speeches should be perfectly fun and perfectly funny:
The couple emceed their own wedding! That makes sense, since they were both emcees and it was one of the most laid-back weddings we have ever had the pleasure of coordinating. There were lots of jokes and laughter but there was also more than a few tears of happiness shed. Some of the guests were even 'forced' to do a speech but they were all game despited being put on the spot.
Thank you, Carla and Boom for showing us that weddings don't need to be a mad rush for each segment, that they can be playful, fun and casual. Congratulations once again and may your love be a testament to all through the years! CABOOM OUT!