Planning a wedding is as exciting as it is tedious. It helps to start off with a budget, and then look for affordable wedding decor options that fall in your suited range. You probably have some idea of what you want your wedding to look like in terms of the overall decor. We're going to help break it down section-wise to make it easier to plan the wedding right from scratch.Today's post will deal with wedding photo table ideas and tell you what you need to keep in mind while discussing the photo display.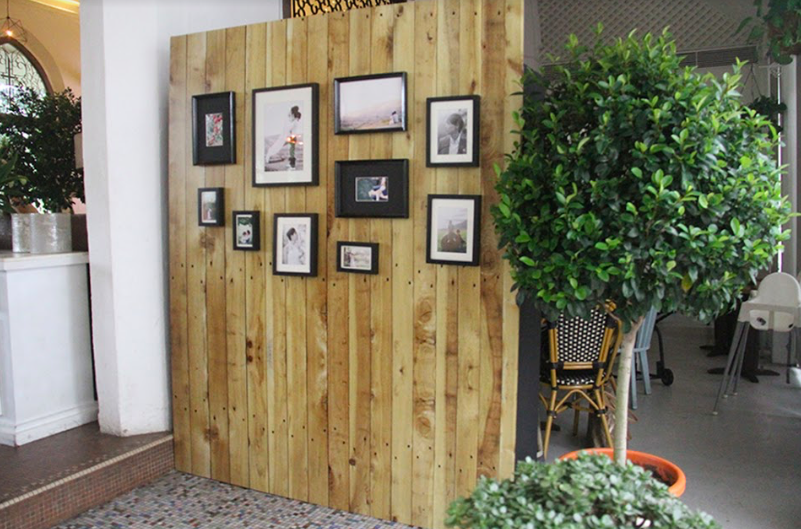 What's the function of a photo table when planning affordable wedding decor ?
The wedding is a day of new beginnings , but it's also a great time to relive precious memories – these could be those of the bride and groom and the journey they shared that led up to the wedding day. Further, one can include pictures of the extended family as well including new in-laws from either or memorable moments growing up.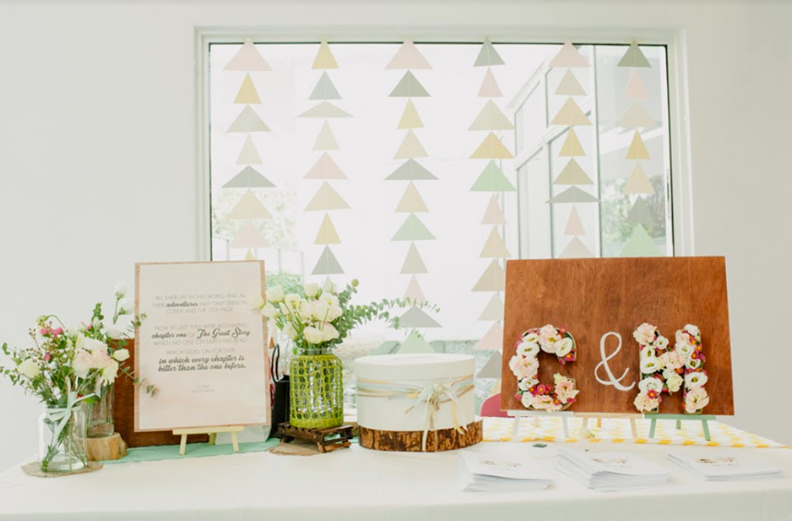 The wedding photo table is a great way to make the reception more intimate, meaningful and personal. This also means, you're inviting guests to not just be part of the big day ,but also letting them into your journey as a couple. The idea behind a wedding photo table resonates with many couples which is why, this is one of the most popular and in-demand decor items that clients ask us for, at Rosette Designs.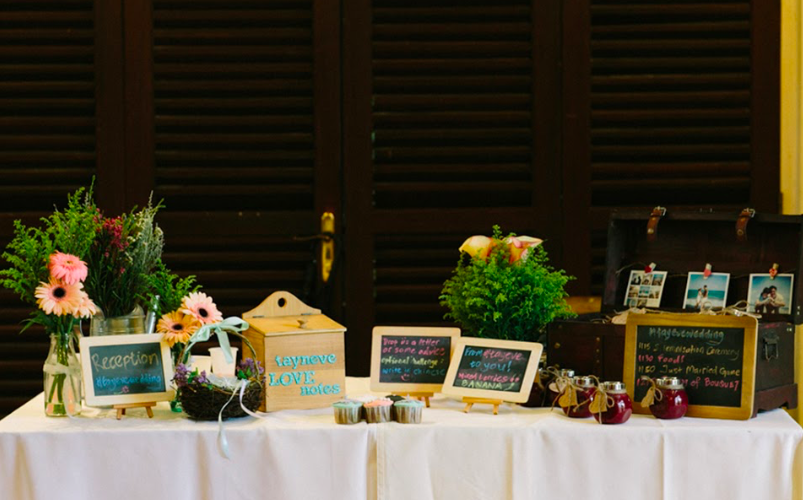 Affordable wedding decor tip #1 : Include baby photos of the bride and groom
Including childhood pictures of the bride and groom or creating a memory trail with pictures at every birthday leading up to the wedding day is a nice way to make the photo table meaningful. It's also one way to add solo pictures to the photo table in case the bride and groom don't have too many pictures together.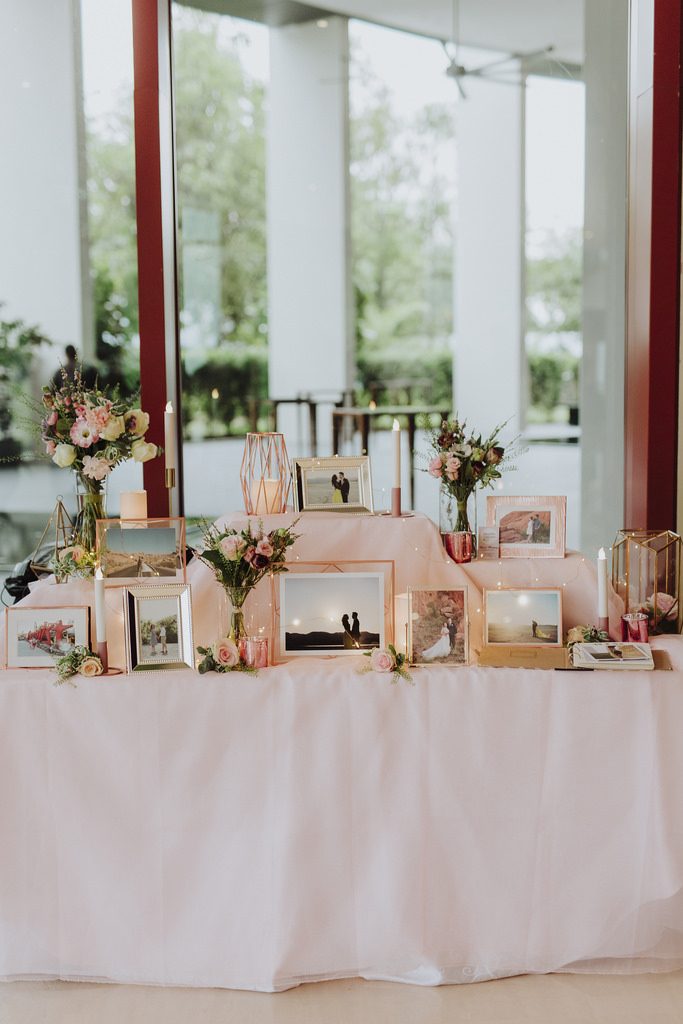 Affordable wedding decor tip #2 : Follow a theme around the photo table or incorporate your existing wedding theme into your photo table as well
What choice of colors do you want your photo table to have ? What about the props ? Do you want flowers at the photo table ? If yes, what color and style of arrangement ? Choosing a theme will help answer these questions and help you find a cohesive design to tie all aspects of your wedding decor together.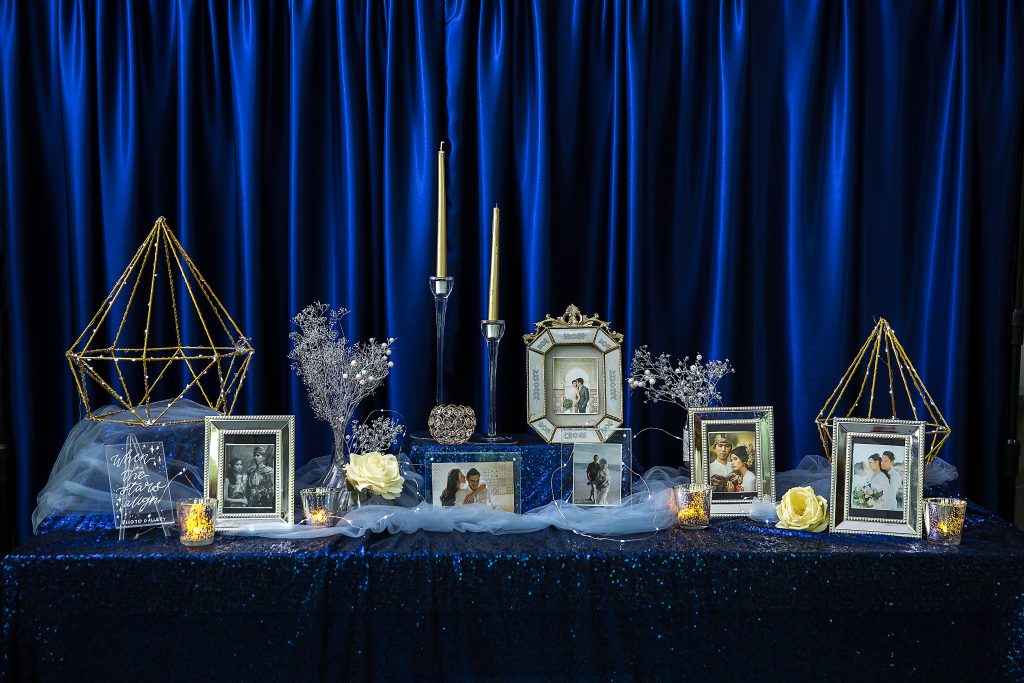 Affordable wedding decor tip #3 : Use your imagination
When it comes to design, there's no limit to what you can create and accomplish. Remember, the decor is all about creating something that embodies your vision. So whether you're going for a bold color backdrop like we did in the above picture, or for a softer pastel theme, whether you want soft fairy lights or fun marquee lights, whether you want an indoor or outdoor setup – everything is achievable.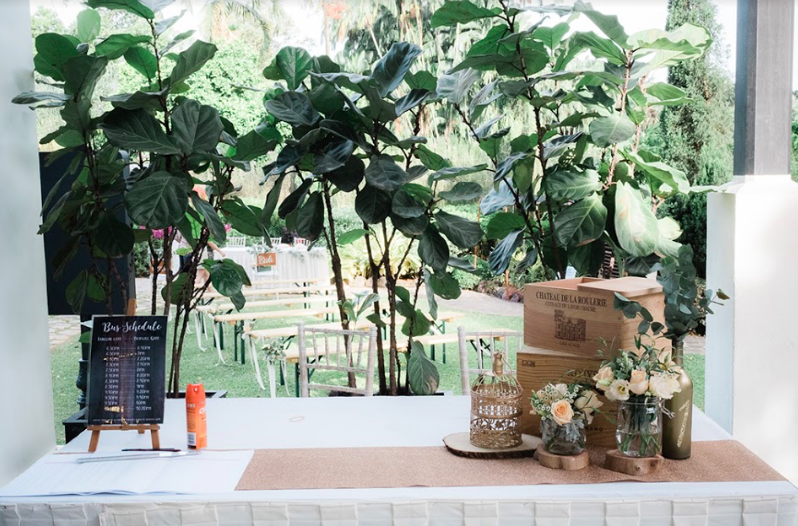 Affordable wedding decor tip #4 : Make it an extension of your wedding theme
in Sinapore, most venues like hotels provide the wedding theme (although they provide only one decor item, we've got the rest covered). You can opt to make your photo table decor an extension of the decor the hotel provides and go for a look where everything blends well with each other.
*All images used are from real weddings at Rosette.
For all your wedding decor, wedding planning and coordination needs, schedule an appointment with us. All services are available in Singapore.