Since Covid-19 took over our lives, jobs, social media feeds, and even our weddings, we've had to change the way we plan any social gatherings. While it's been a tricky adjustment for most of us, there's always a silver lining out there. In the wedding planning arena, that lining would be small intimate weddings!
This may not have been part of your plan pre-Covid, but let me tell you, there's something seriously magical about a small wedding. It allows for the opportunity of unique touches, special features, and connecting with your loved ones. It's also ultra romantic!
We love styling smaller weddings, so we've compiled a little list of things you can think about when going ahead with your planning. And a few ways to add that magical touch too.
A Meaningful Venue
Having a small wedding opens up all sorts of possibilities that large weddings don't allow. Fewer guests means you can get married in places more unique and meaningful to you. Like on a beautiful yacht, a secluded beach, in the countryside, or even in your own backyard in Singapore.
Even if you're still planning to use the same venue as when you had a bigger guest list, a smaller number means you can get more creative in using the space available to you. You can add in a lounge area for guests to put their feet up, food stations, or a bar. You could also install some draping to divide the space, so it doesn't look like 100 people didn't turn up.
For outdoor weddings, consider a long banquet table under a tree, a personal gathering in the vineyard, or a private dinner under a small luxury marquee. Think out the box and look for the perfect space for your smaller group that'll make the whole experience that much more intimate.
Luxury Decor
Just because it's a small wedding, it doesn't mean you don't need to focus on the decor. In fact, you have even more opportunities to make it luxe and personal. And with a bit of spare budget to splurge, you can treat your loved ones to a 5-star experience.
For table decor think gold cutlery, crystal glasses, specialty napkins, gorgeous florals, fairy lights, and an abundance of candlelight. Add that extra luxe feel with lush textures like French linen and soft velvet. It's all the little touches that make the biggest difference.
A Large Feast For A Small Gathering
Because you have a smaller guest list, you can get really personalized on the food. Eating is another way to connect with people and build on the intimacy of the event.
Go full hog with a six-course meal and matching wines – and make sure you include your fave meal as a couple. Or take the more unique route with specialized food trucks. This will be a real talking point – the novelty of food out of a truck will never wear off on us!
Intimate Seating Arrangements
A smaller wedding means you can spend more time with the people you love most in the world. Why not create a single table for you and all your guests to share in the festivities?
Long tables are perfect for this and can look gorgeous with lots of candles and fairy lights strung over. Otherwise, take the boho route with some low comfy seating and the chance to mingle more.
Also look for ways to make your seating area even cozier, like setting up near a warm fireplace or layering with rugs and blankets under the stars.
Custom Favours and Name Holders
Because you'll have fewer guests at your small wedding, you have the opportunity to add a real personal touch to your wedding favors to let them know how much you appreciate them being there.
Consider a personal note especially to them; use photos you have of yourselves together, or give a welcome or recovery box (after a big night of celebrating!) suited to your guest's individual tastes. Your guests will feel super special knowing you thought of them personally during your wedding planning.
DIY Wedding Bar
With fewer guests grabbing a beverage, a smaller wedding is the perfect opportunity for a DIY wedding bar. Let your guests mix their own cocktails, pour their own mixes, or even fill their own champagne glasses from the tap.
This is another opportunity to make your wedding more unique and connect with your guests. Plus you can save on the cost of a bartender!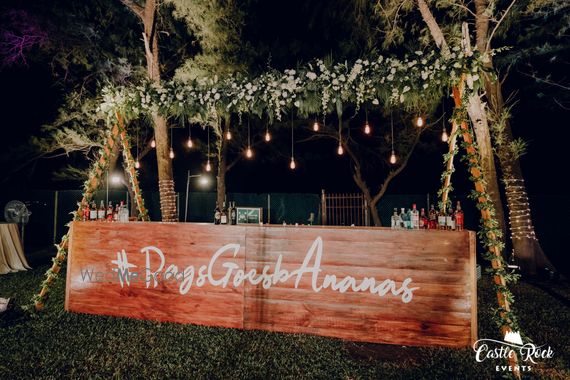 Splurge On Your Most Valuable Wedding Cost
Lastly, with a smaller number of heads to cater for, you'll be saving some coins. Use the extra dosh to splurge on something that's really valuable to you. Whether it's a great photographer to capture those perfect moments, your favorite local musician, or your dream venue that wouldn't have been possible with that long list of aunties you had to invite.
The main thing is to see this as an opportunity to create a more memorable and meaningful event out of what is already a super special day.
Small weddings really are the silver lining during these weird times and connecting with our loved ones in these special moments couldn't be more important.
If you wish to find out more about how we can style your intimate small wedding, book a free consultation with us or drop us a text at 96694213. We are looking forwards to make your big day happen!