When it comes to discussing wedding decor , wedding lighting can hardly be left out of the conversation. The right kind of wedding lighting :
sets the tone for the evening
creates a mood around it -based on colors, hues etc.
creates focus and areas of light and shadow
takes away the mundane and bring in an element of mystery, magic and grandeur.
If you've not already taken lighting seriously as an important part of the decor, it's a good time to start.
(Note : We first wrote this article back in 2019, before COVID-19 changed our life, including how we use lighting in our decor.)
Currently in Singapore, wedding banquet have restriction of 50 guests per zone and every zone have to be separated by 3m distance and barrier.
We have use it for the separation and weaved it as part of the decor for the wedding.
Let's explore some of the different kinds of lights that can be added to wedding decor, in no particular order then :
Fairy Lights for Zone Separation
We did this fairy lights design before COVID-19 happened and didn't expect to start a new trend where fairy lights acted as zone separation
Fairy lights for Aisle Decor have been a mainstay in 2018 and beyond. This trend is here to stay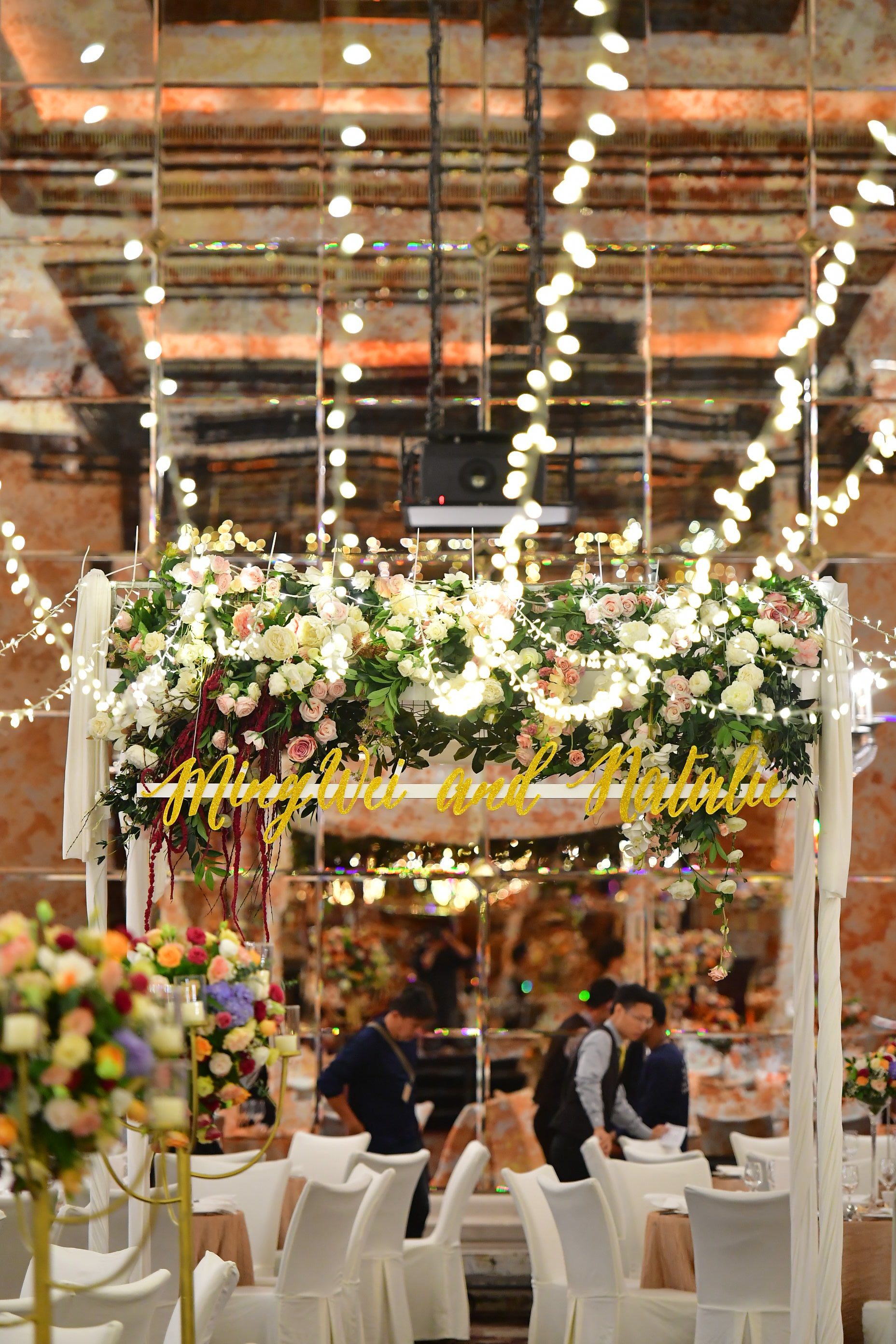 Backdrop for Wedding lighting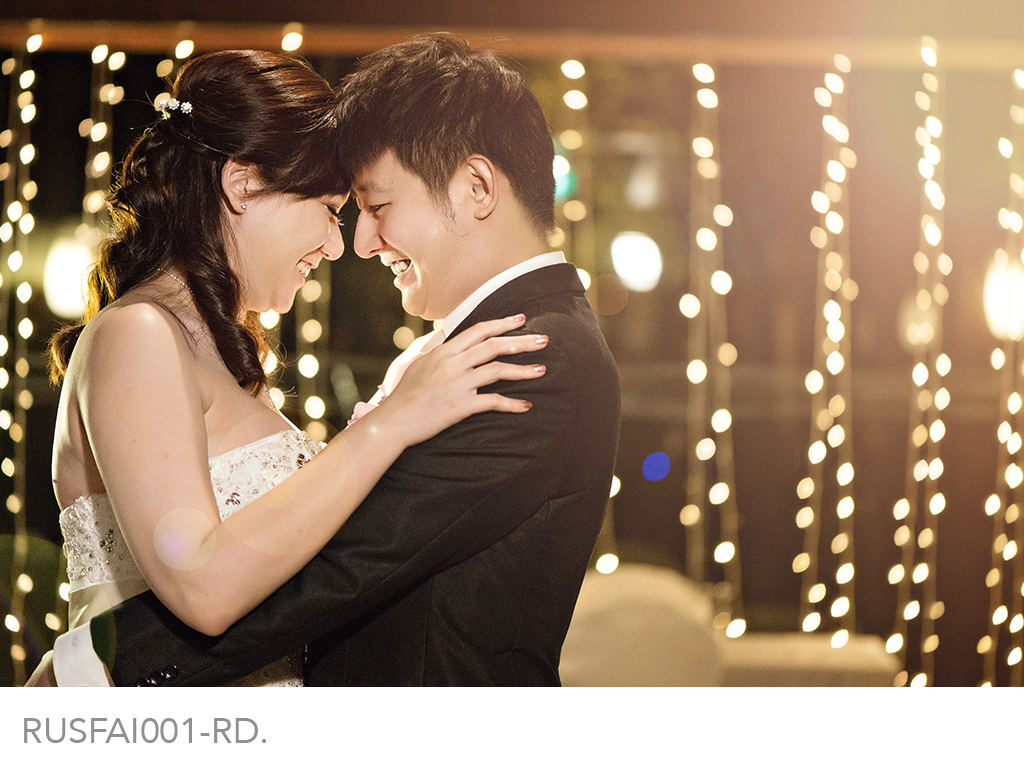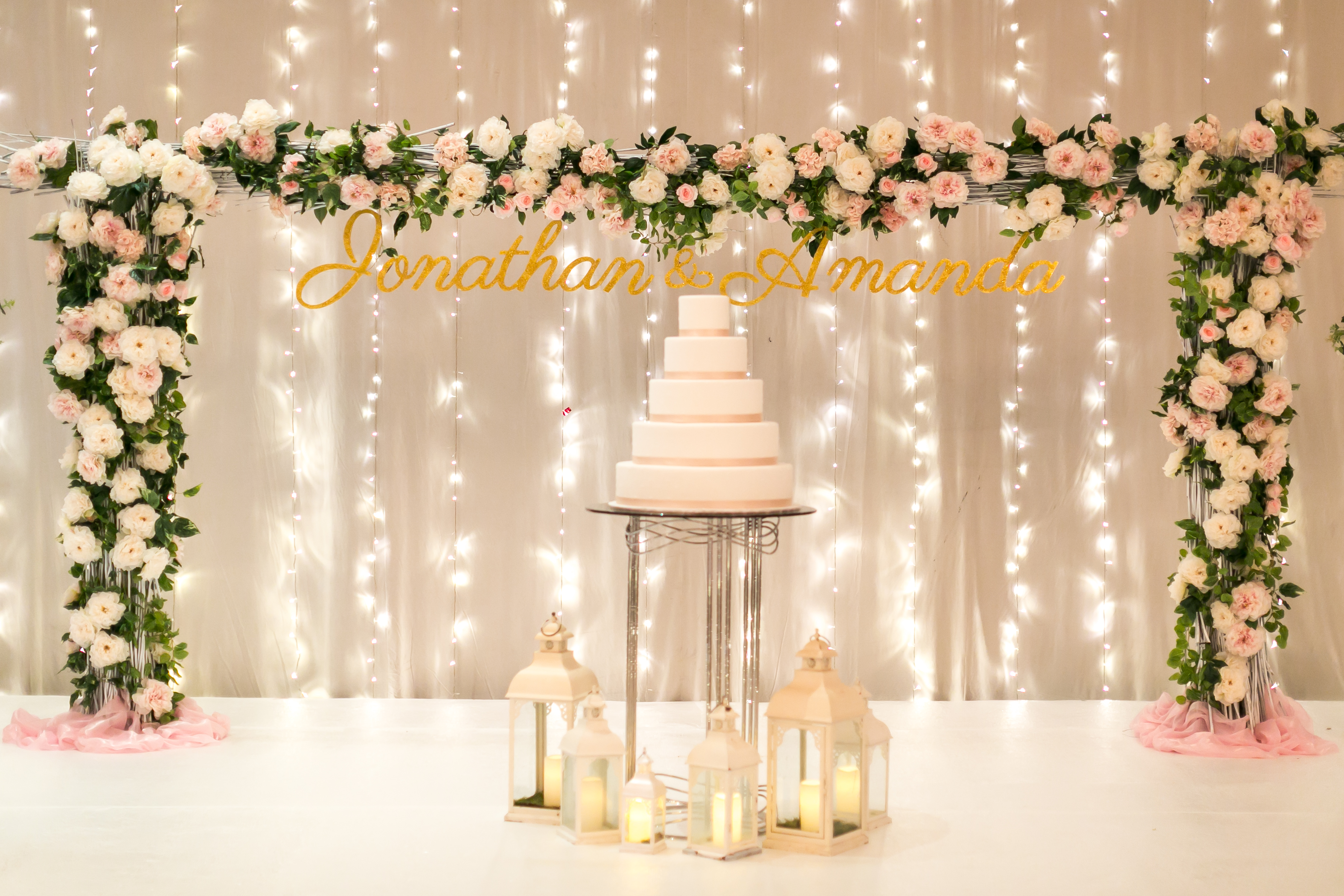 Imagine walking in the glittering fairy lights, beneath your feet. It is a special way to enter your ballroom with a bang!
Marquee lights
Marquee lights are a fun and modern prop to add lights, letters or fun signs to your weddings. We use marquee lights in our wishing table, Photo Booth decor and also to create a nice backdrop for photos – the response has always been overwhelmingly positive, so if you haven't already tried them out, please do so.
Goes well with ; Props, centerpieces, Photo Booth decor,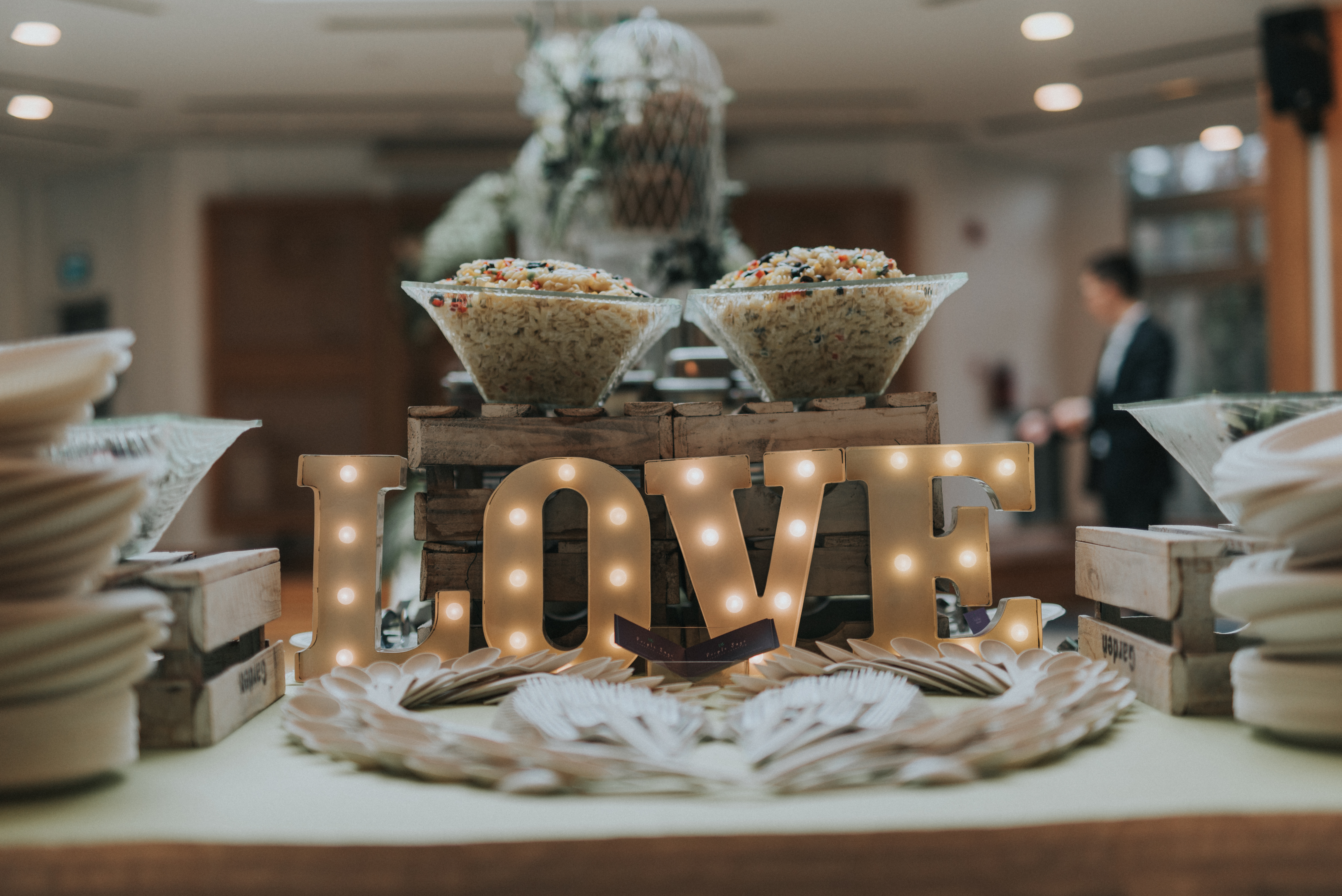 3. Globe lights / String lights
Globe lights or bulbs aren't as tiny as fairy lights. These come in sizes ranging for medium to large and work best in outdoor weddings where they fulfill both functional and decorative purposes of actually providing lighting to the area and serving as a decor piece in the wedding lighting setup.
Goes well with : Back drops, roof decor under teenage, overhead decor in an open venue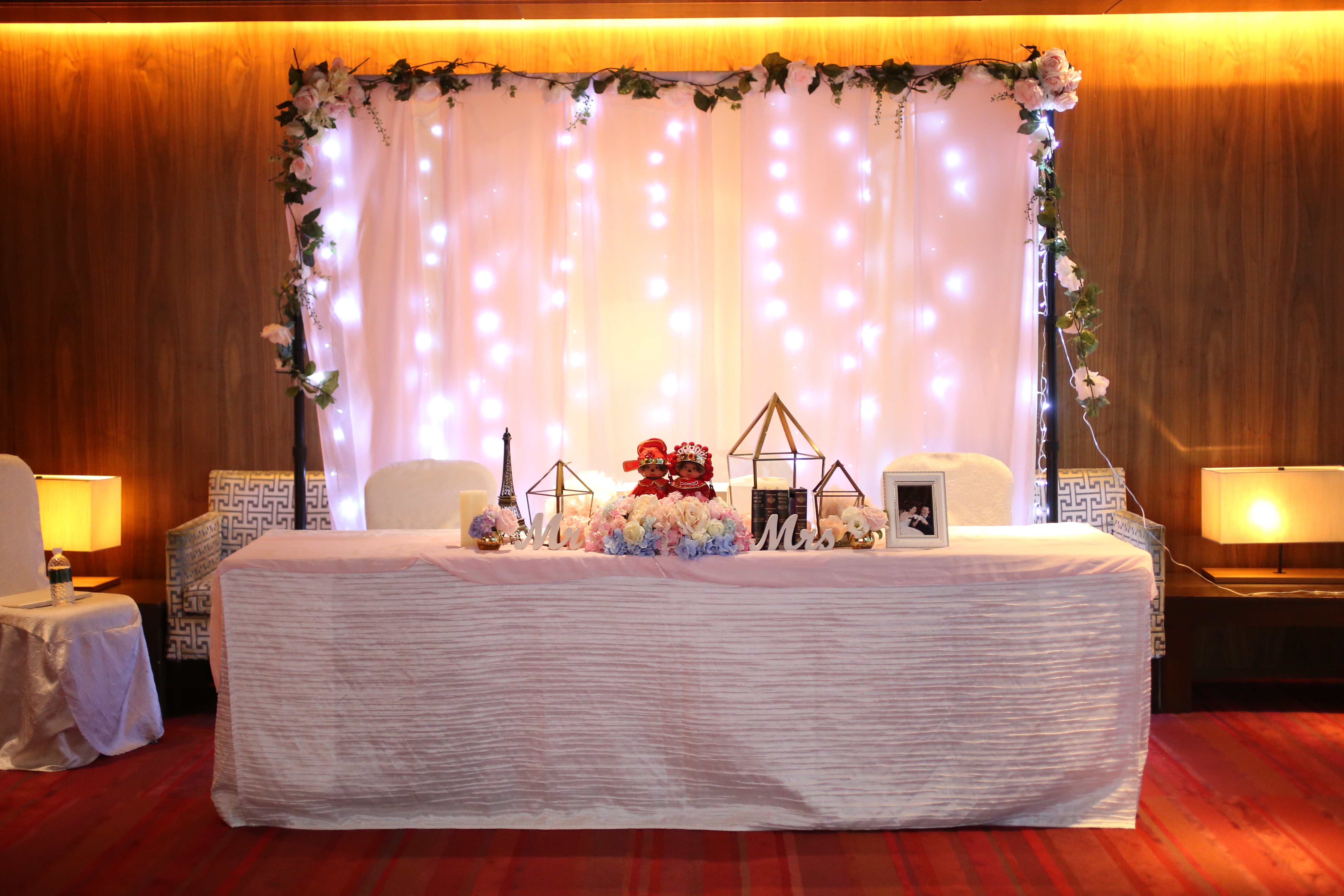 3. Candles
Ever so romantic and dreamy, there's just something about candlelit dinners. Candles are perfect for both an indoor and outdoor ambience but good care and caution must be exercised while using them in decor arrangements. Hiring wedding coordinators to conduct the event seamlessly so you can breathe easy and know that there's someone to take care of the finer details.
Of course, if real candles seem too risky, go for candle shaped lights instead.
Goes well with – Reception table decor, centerpiece, wishing table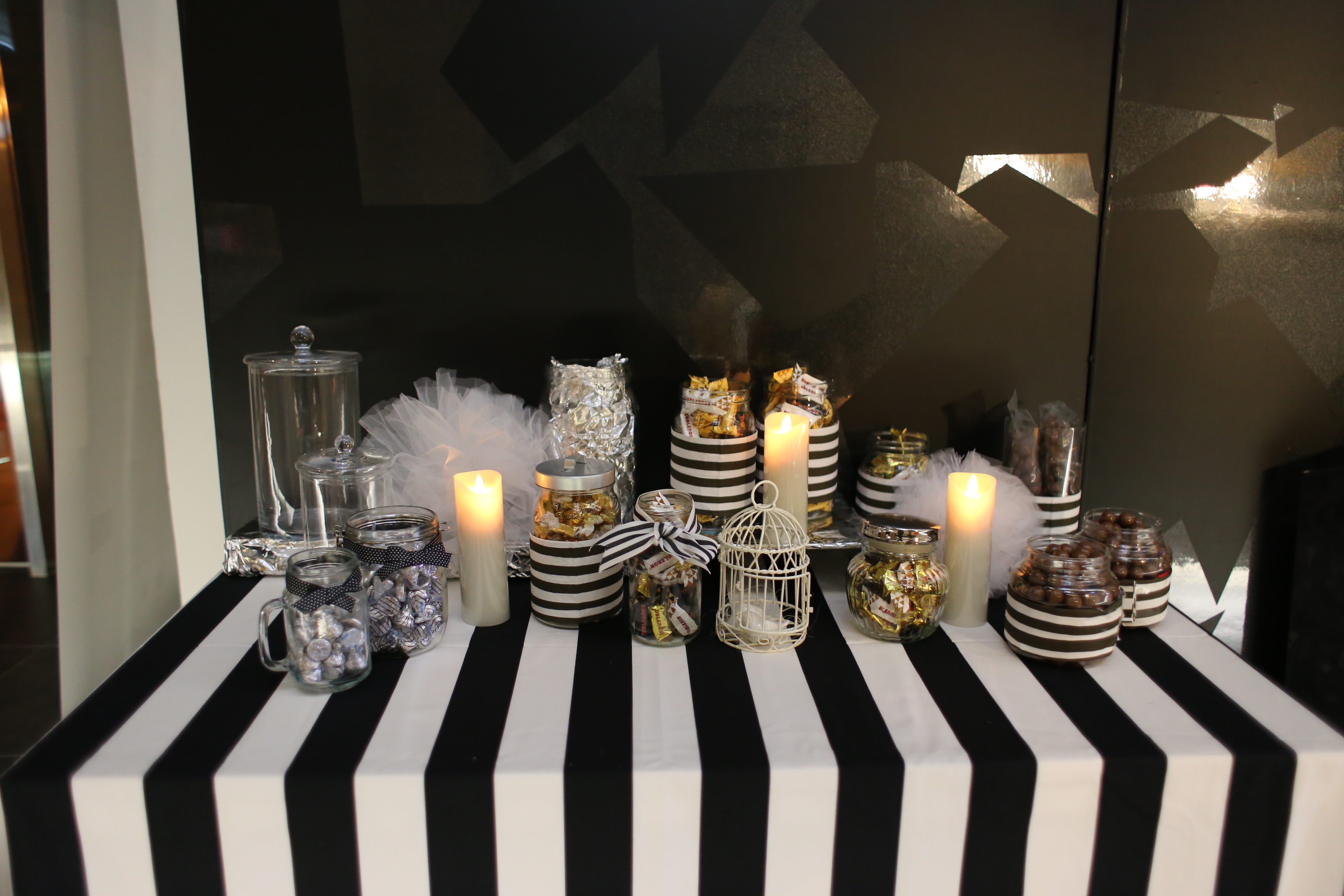 Even if you're not wedding planning yet, learning about lighting and the various popular / trending pieces that can help you design your own personal space – like your bedroom or studio. You can even use our tips to design your birthday party or any small event.
To get any of the items shown in this post, please reach us.
Book an appointment with us to find out more or Fill this Contact Form so we can contact you