A to-be bride has been dreaming of a wedding ever since she was a girl. She has imagined the special day for setting, from the dinner sets, table arrangements to the flowers and even the ceiling. To make this dream a reality, a lot of attention needs to be paid to each element of the wedding decor, either big or small. One of them is the ceiling.
Usually, in Singapore venues, it's not very common to do ceiling decor. But the latest ceiling decor ideas play an important role in setting the tone of the event but also glam up the wedding decorations to a large extent. Not only do they look absolutely magnificent and royal, but make for great photographs too! It will surely be a wow element for your lovely guests!
An artistic ceiling design plays an integral role in setting up the tone of the event. Apart from lighting, florals, cards, or arches, a beautiful ceiling is an elegant way to make a statement at your wedding ceremony. The impact will create on the decor will be hard to miss. No matter how many tiers your cake had or how gorgeous the location was, a beautiful ceiling will be the thing to cherish for you and your guests. What's more? Your photos are going to look so dreamy under those flowers or lights.
From grand floral chandeliers to pretty paper lanterns, take a cue from these breathtaking ceiling designs that will awe your guests:
1. CEILING DRAPING
A classic, draping is the most traditional way of ceiling decoration. From Satin to shimmer organza to silk fabrics, these drapes look grand and can be accented with other accessories, including lights or flower chandeliers for an evening ceremony. If you looking for an Indian Wedding in Singapore then this is a must go!
2. FAIRY LIGHTS
Dreaming of gorgeous and remarkable ceiling decor for your D-day celebrations? Then these pretty fairy lights ceiling decor is all you need. Fairy lights will surely brighten up the way to your wedding and it also provides the LIT affair for your wedding decor. You can have fairy lights with a bare ceiling venue. So, Hort Park and restaurants with low ceilings are the ideal venues for fairy lights decor.
3. FESTOON LIGHTS
Looking for some subtle options for a barn or outdoor wedding? Go for a Festoon Light Ceiling. They can be combined with lanterns, ribbons, or some greens to give you the perfect rustic wedding look. Hung low or at a height, they look pretty anyway.
4. FLORAL
Florals are going to be a big thing this year. From arches to photo booths, they will be gracing most of the wedding decor, making it subtle and cheery. Use can also choose your favourite flowers to personalize your wedding decor for a fresh and nature-inspired look.
You can use garlands, hanging flowers or above all in the form of a floral wedding chandelier can be the ideal choice for your nature-inspired wedding ceiling. Mix and match with some fairy lights and it will be the perfect fit for your flower-inspired wedding decor.
5. HANGING GARDEN
A low height ceiling made of your favourite choice of flowers and twinkling lights makes for a very intimate and cosy setting. You can either go for only greens like mosses or pick two or three of your favourite blooms, pair it up with some greens to create a stunning visual prop right at the centre of your wedding.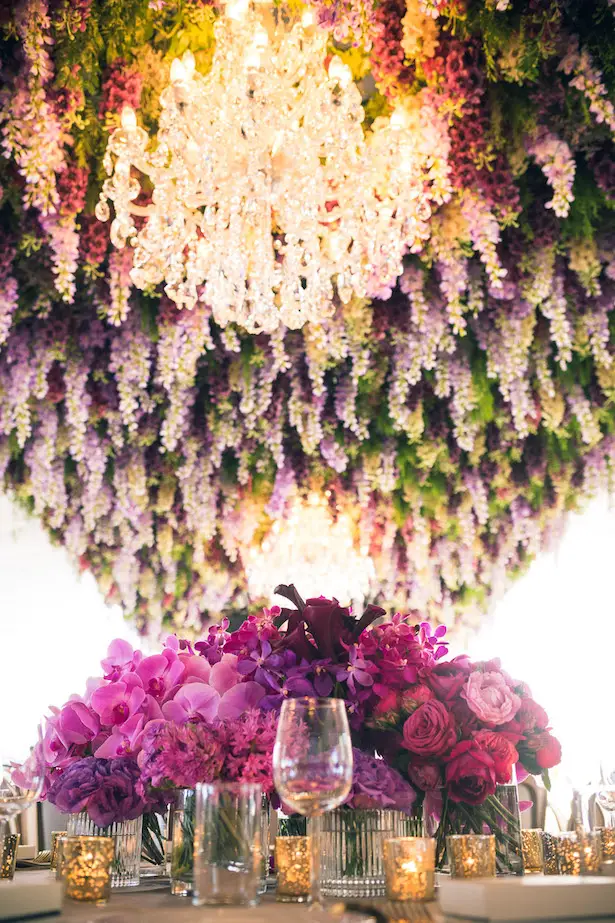 6. BALL LANTERNS
For someone who is looking for an out of box decor, antique Chinese lanterns can serve as an ideal alternative for chandeliers. Pair them up with some festoon lights, flowers or ribbons and your wedding decor gets a contemporary makeover.
7. ARTIFICIALLY SET UP BRANCHES
For the ones who want to stand out and try something different, branches for ceiling decor fit perfectly. Uniquely arranged and well-decorated branches along with some foliage and fairy lights can set the right tone for a rustic wedding.
CONCLUSION
Ornamental ceilings make for an essential part of the wedding decor. From subtle to pompous there are numerous options available as shown above. So pick the ceiling designs that fit your fairy wedding and personalise it accordingly or let decor experts do it for you.
If you wish to find out more about how you can make your wedding ceiling designs fit your fairy wedding, book a free consultation with us or drop us a text at 96694213. We are looking forwards to make your big day happen!