A wedding definitely does not need to follow the trends to be special. But you also want your wedding to be memorable. Instead of looking at what has already been done a thousand times over, why not take a look at what experts have to say is up and coming in the scene to get some inspiration.
We've trawled all the lists and put together the trends that we think could take your wedding from good to great.
MOODY, COLOURFUL FLORALS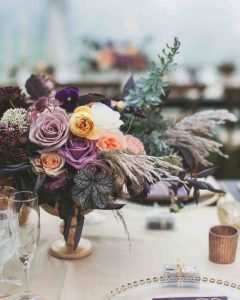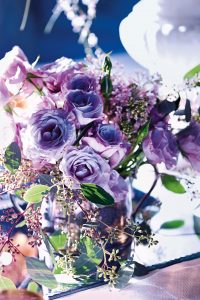 Photography (L-R): Alixann Loosle Photography, Pinterest
ALL ABOUT THE DRAMA
Darker, detailed, and textured florals are coming in to create a more dramatic effect. The colour of the year — ultra violet, is also going to feature more in bouquets and centrepieces.
POTTED PLANTS & WILDFLOWERS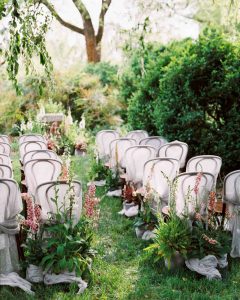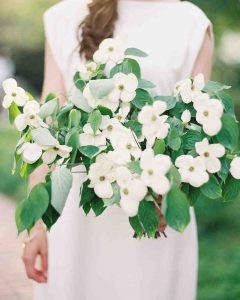 Photography (L-R): Erich McVey, Rylee Hitchner
GROUNDED LIGHTNESS
Aisles take an earthy route as they are transformed into garden beds, bringing the wildness of the outdoors to the ceremony. Potted plants wrapped in soft fabrics create an ethereal yet intimate feel. From aisle to your own garden, these potted plants make for a greener wedding in more ways than one!
Not just limited to the aisle, wildflowers will feature more in bouquets and centrepieces as well, adding a chic freedom to the decor.
COLOUR, COLOUR, COLOUR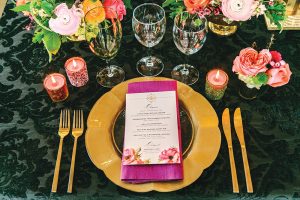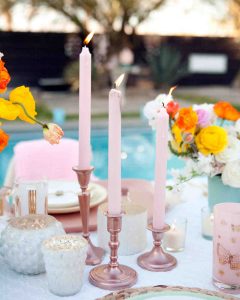 Photography (L-R): Milou and Olin Photography, Belathée Photography
ADDING THE UNEXPECTED
Out with the boring white or pastel palettes. Couples will be looking to add a dash of colour to their weddings to give it a burst of their own personality and add an element that is unexpected.
Some easy ways to do that are by using coloured candles (instead of the usual ivory ones) or adding accents like layering a bright-coloured napkin on gold glassware at your table setting.
ALL ABOUT THE EXPERIENCE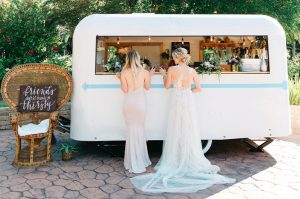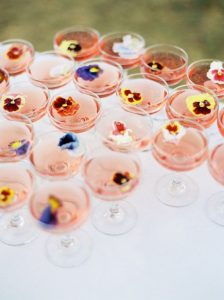 Photography (L-R): Hello Penny Bar, Pinterest
BE OUR GUEST
2018 is the year where it is all about the experience for those nearest and dearest to you. Couples will be looking to make their weddings a fun and more intimate gathering. From personalised place settings, to drink bars with custom cocktails, roving sketch artists, and throwing a great after party, the options are limitless.
HANGING FLORALS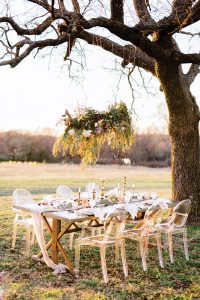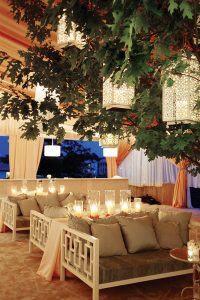 Photography (L-R): Melanie Julian Photography , Liz Banfield 
ELEVATING THE CENTREPIECE
Hanging floral arrangements are the new centrepieces.
Instead of spending on multiple centrepieces, more will opt to make their dollar count by pooling that money for a single, grander signature piece that will make a big statement. These are not just great for the gram but also allow the table setups to be kept simple for ease of the guests' experience. Hanging arrangements can also be cleverly used to make bigger spaces feel more intimate.
TEXTURES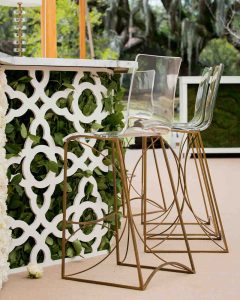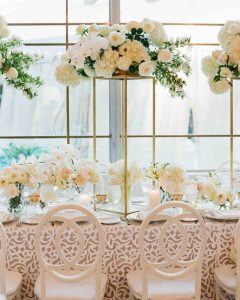 Photography (L-R): Christian Oth Studio/Jack Jeffries, KT Merry
ALL IN THE DETAILS
Adding a surprising texture for various elements of your wedding, such as wax seals on menus, marble dance floors, assorted linens on each table, and even three different tabletops for the reception tables are some of the new ideas that guests will notice and appreciate.
Freshly cut foliage fronted with a laser-cut painted wood veneer can jazz up the bar or backdrop by creating interesting layers and breathe life into any wedding decor.
NEON LIGHTS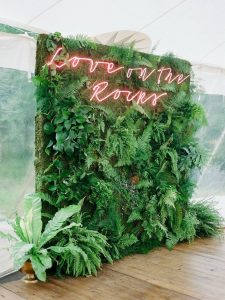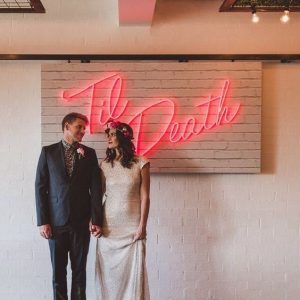 Photography (L-R): Rachel Havel, Pinterest
LIT WITH LOVE
An alternative to fairy lights, neon lights will add a cool yet personal vibe to backdrops and photo walls. Couples can have these customised with their last name or a quote they like. This feature piece also lasts beyond the big day and can be installed in your new family home to continue the journey with you.
STARDUST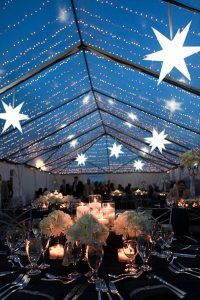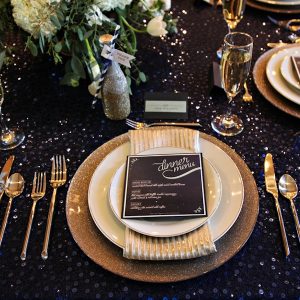 Photography (L-R): Daweddings, Jasmine Lee Photography, Style Me Pretty & Tab Mcausland Photography
THE THEME OF THE YEAR
Ceilings canvassed with twinkly lights, midnight blue palettes and cosmic accents will take weddings into a dreamy place. The theme of the year, Stardust, keeps weddings classy while giving it a whimsical twist. Who would say no to dining and dancing under the stars?
If you love the theme of the year, we have a specially curated Stardust : Solemnisation & Reception decor package for you. Email us at [email protected] for more information.
Sources : Bridalguide.com / Bridestory.com / Martha Stewart Weddings / Stylecaster.com / Theknot.com / Weddingwire.com