A wedding is not complete without the precious moment when you say " I Do". Whether you are reciting the vow at home or at a venue in Singapore, you need a beautiful setting to frame that moment.
A beautiful wedding arch helps set the stage for a heartfelt and memorable day. An arch laced with vibrant greenery and showy flowers creates a beautiful backdrop for you and your special someone to exchange your vows and declare your lifelong love. Wedding arches can come in all shapes, sizes, and styles! Think aged wood and lush foliage or soft florals paired with unconventional geometric shapes.
To help you get started on decorating a wedding arch of your own, we've rounded up some of our favorite wedding arches and pointed out important focal points to inform your design. Take a look at these wedding arch ideas and get inspired for your special day!
HOW TO DECORATE A WEDDING ARCH
Wedding arches commonly begin as a basic wooden frame and are eventually decorated with flowers and greenery. Arch decorations can also include more classic choices like fabric and trendy picks like shells and bamboo. Wedding planners and florists most likely know how to decorate a wedding arch with flowers, but we have a few tips for you in case you're creating it yourself or are interested in learning more about how wedding arches are created.
Flowers
This goes without saying, but it's always easier to match the flowers in your bouquet with the flowers in your arch. Flower decor is the most common and most beautiful way to make your big day beautiful in Singapore. If you are DIYing your arch (or any part of your wedding decor with flowers), make sure you keep your selected flowers in water for at least 24 hours before your big day. This will ensure that your florals are nice and hydrated.
You ideally want to pick flowers that do well out of the water like proteas and carnations. Roses are popular choices but are a little more sensitive to a lack of water. If you're using fresh flowers, it's best to add your flowers to the arch right before the ceremony so your flowers can look their best.
Greenery
The same greenery used in floral bouquets is also used to decorate wedding arches. If you're covering many surface areas with greenery, you want to choose more lush foliage like eucalyptus and fern leaves. For a delicate look, you should choose more lightweight greenery like ivy. Dusty miller leaves are a great choice for winter weddings due to their muted color.
Fabric
Classic wedding arches incorporate different types of fabric to cover and accent the arch's shape. Popular material choices include organza, chiffon, and tulle. These specific fabrics are all made from silk but differ slightly in look and texture. Organza is thinner and more transparent, whereas chiffon is more opaque. Tulle poofs out a bit more and adds soft volume.
Additional Accents
Some couples choose to go one step further by adding additional accents and backdrops to their wedding arch designs. Beach and tropical-themed weddings incorporate shells into the arch. A wedding with more modern decor can incorporate metal accents and hanging geometric ornaments from the frame. Let your creativity guide you when choosing decor for your arch and the rest of your wedding!
Shapes
Incorporating different shapes beyond the traditional wooden frame is a rising wedding decor trend. Some resourceful couples create wedding arches out of the architectural features of their venue. For example, older buildings usually have beautiful archways that couples can use as-is or with a few added floral and green touches.
More modern couples opt for geometric-inspired arches that resemble a variety of shapes like hexagons, triangles, and diamonds.
MODERN WEDDING ARCH IDEAS
1. DECONSTRUCTED ARCH
This lush setting is done at Raffles Hotel- Singapore's lawn for solemnization for an outdoor wedding.
2. BOHO ARCH
3. CIRCULAR ARCH
4. FLORAL FRAME BACKDROP
5. HALF CIRCLE ARCH
6. BEACH WEDDING ARCH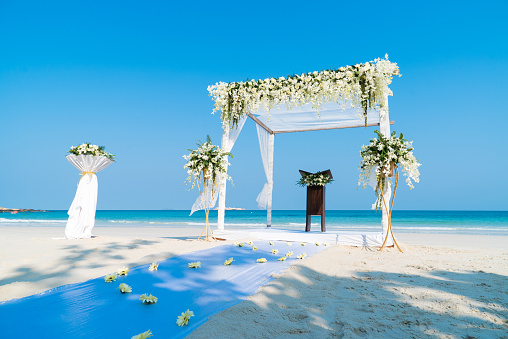 7. RUSTIC ARCH
8. CANOPY WEDDING ARCH
If you wish to find out more about how you can make your wedding arch designs fit your fairy wedding, book a free consultation with us or drop us a text at 96694213. We are looking forwards to make your big day happen!