As more and more people are getting vaccinated and restrictions begin to ease up, more engaged couples feel confident enough to (finally!) set that wedding date.
Although we're not entirely out of the woods when it comes to safely gather, there are certain precautions couples can take to safeguard their celebration. Here are 10 ways to make your wedding as Covid-friendly as possible
Does cherry-pick a wedding venue where safety measures are taken? The sanitation and safety of guests should be top of mind at every wedding celebration. The organizers should ensure that the intimate wedding venue is sanitized thoroughly. Make sure they sanitize touchpoints like doorknobs etc.
1. CONSULT WITH YOUR VENUE
Outdoor venues are your best bet for hosting a Covid-friendly event; though if you choose an indoor venue, just make sure there's a good amount of ventilation and a creative layout so you can safely space out your guests.
Also, do ask the venue or planner to make provision for a layout mask, tissue, or face shield at the entrance for the guest to use and take home. The guests will certainly feel safe with such a wedding venue.
2. HIRE A WEDDING PLANNER
Planning a wedding during a pandemic is complex, to say the least. If there was ever a time to hire a wedding planner, it would be now! They'll advocate for you when it comes to vendor communications, contract negotiations, and ensuring your entire venue and vendor team have the proper safety measures in place.
3. MULTIPLE ENTERTAINMENT STATIONS
Instead of just one bar and one dance floor, where people would obviously crowd around, you can make multiple such stations, so that people could really have their fun without being worried about being too close to anyone!"
4. LAY OUT GUIDELINES ON YOUR WEDDING WEBSITE
Your wedding website is the perfect place to outline the safety and sanitation measures you've put in place due to COVID-19. You can alleviate any confusion by stating clear guidelines when it comes to mask-wearing, social distancing, and all that other fun stuff that comes along with having a wedding during a pandemic. Giving your guests this information ahead of time will set everyone up for success.
5. STOP. SANITIZE !
Supply guests with masks and/or hand sanitizer as wedding favors, in welcome baskets, or at strategically-placed "sanitizing stations" around the event space. You could consider doing temperature checks upon guest arrival or requiring a negative test or vaccine confirmation before the big day to be extra careful.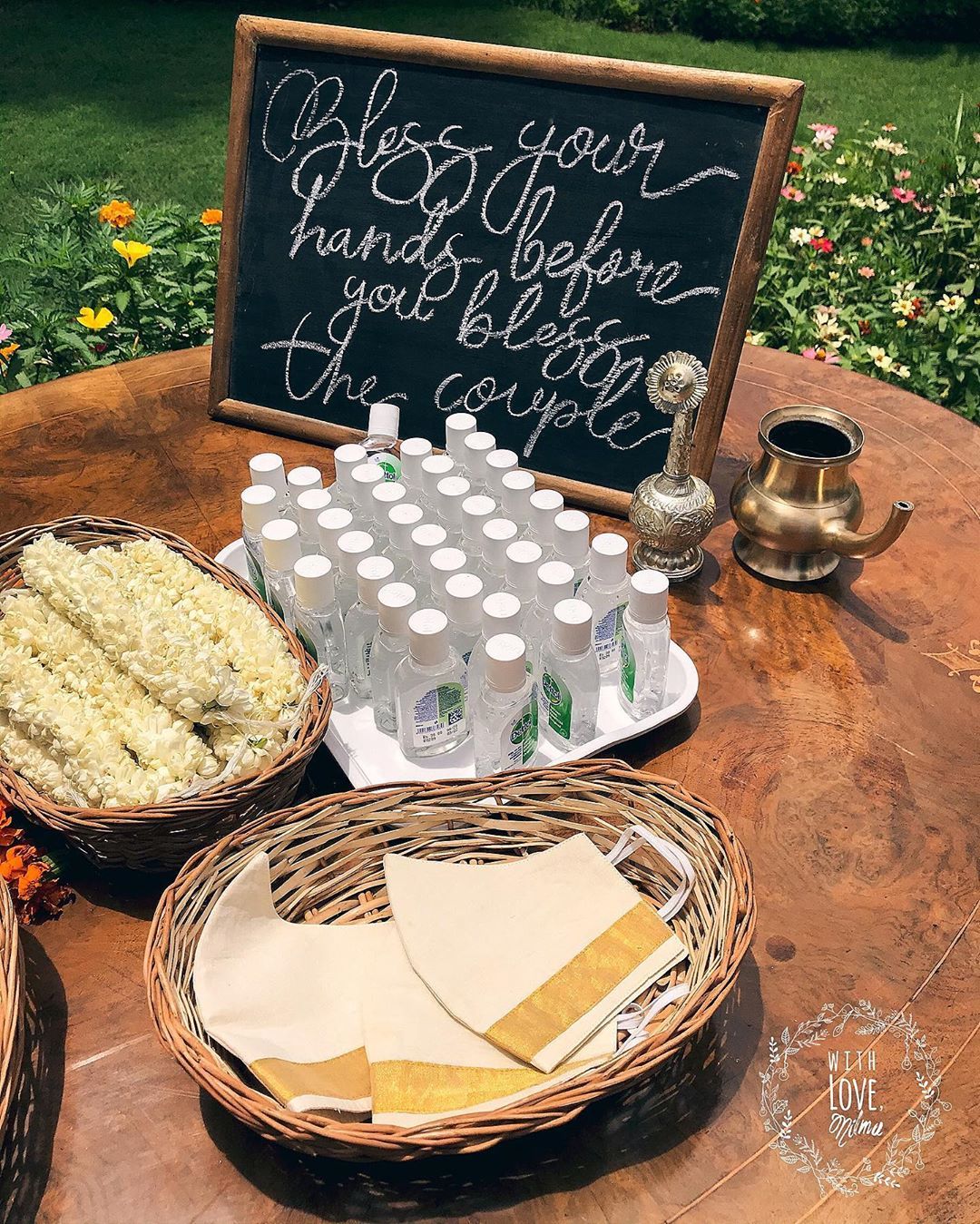 TIP: Personalised masks
You can use separate masks for the bride's and groom's sides, making the whole thing even more fun. Guest will enjoy, and the photos look really nice and colorful too!"
6. COUPLE AND GUESTS SHOULD PARTY MINDFULLY
If you are lucky enough to be one of the selected few in the wedding, then many years. You both have committed to reaching the venue, so it is important to maintain social distancing while meeting each other. Also, make sure that you wisely act at the wedding. Don't get overwhelmed when you are meeting a relative after years. Respect the boundaries and know that everyone will understand this positive distance. Refrain to collectively gather in a small place. Maintain a good distance to keep safe.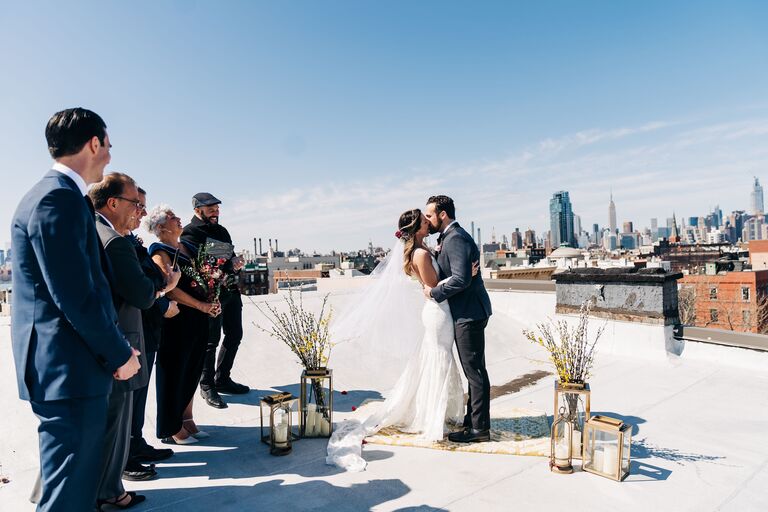 7. SPACE OUT YOUR SEATING
Help your guests maintain their personal space with strategic seating arrangements. Ideally, you'll want to group families from the same household and leave an appropriate distance between parties of different households.
You may also want to use distance markers on the floor around the bar, food service areas, or other popular gathering places to discourage guests from crowding.
8. USE CLEAR BARRIERS AS NEEDED
If space is an issue, clear barriers can be used instead of 6-feet of separation. Keeping guests comfortably distanced during a pandemic wedding takes some creativity—and a little bit of acrylic!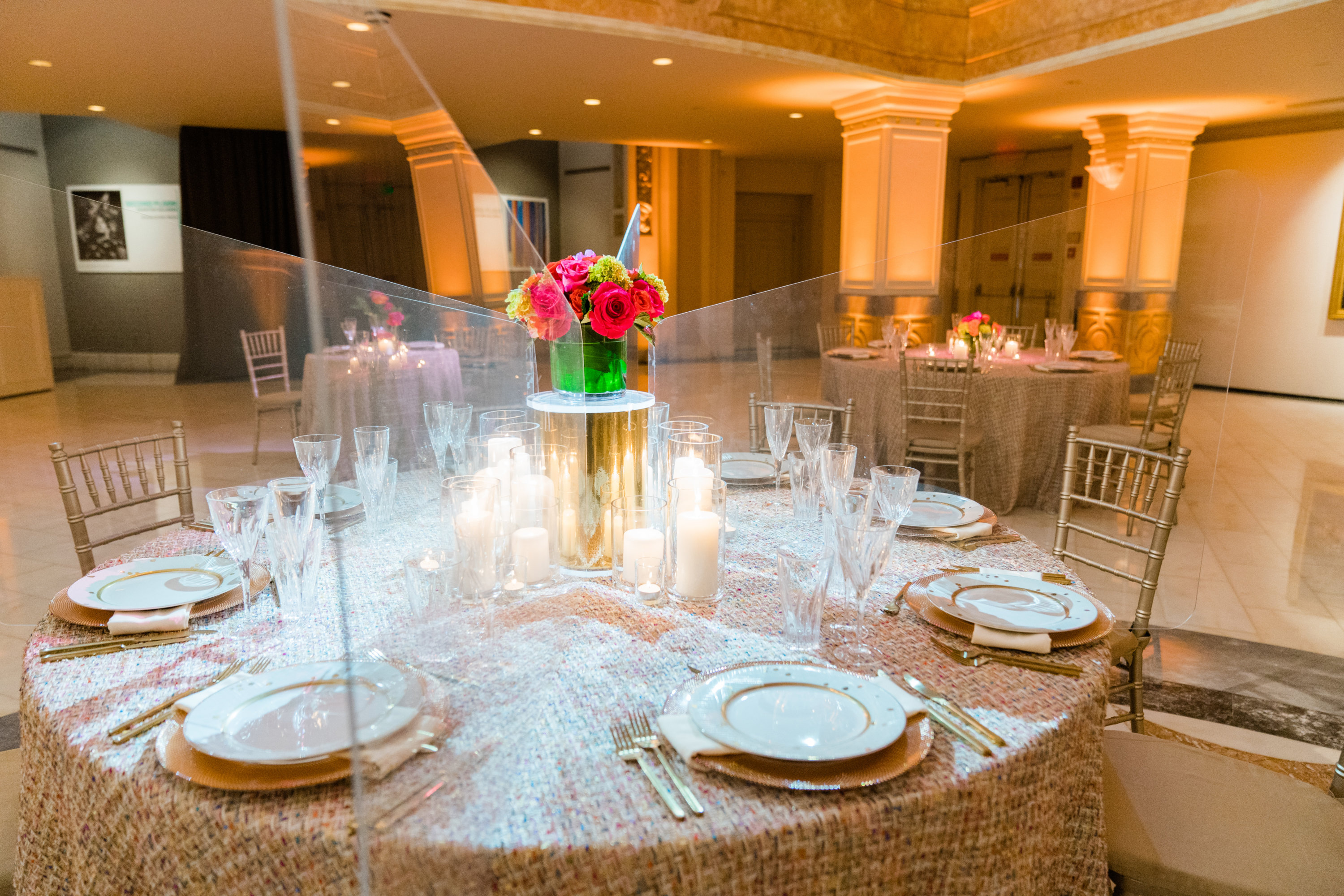 9. PROFESSIONAL LIVE STREAMING
Instead of relying on someone to hold a laptop or camera to show the wedding to all the Zoom guests, you can tie up with professionals to live stream it so everyone got a very good view of the wedding, and also you don"t have to run around for it, and no one will miss anything important!"
10. PREFER PLATED MEALS RATHER THAN BUFFETS
Avoid keeping a buffet and instead go for a plate system. Yes, the buffet system has subsided and plated meals are trending. Individual boxes are safe as the guests don't have to wait in the queues. Also, there should be dedicated food handler(s) to the guests instead of multiple chefs. Even for snacks, ensure that the snacks are well cooked served in small stations spread across the venue. Ensure that the waiters are well masked and serving across the venue. Ensure that food is prepared to ensure safety protocols. Cross-check with the vendor about the deep sanitization of the kitchen. You can ask the vendor manager to check the chef's temperature before he starts preparing the food. The staff should wash their hands frequently. Immunity boosting but delicious servings of grilled vegetables or fruit chaats will always be a welcome idea at the covid weddings.
If you wish to find out more about how you can make your wedding covid safe and smooth, book a free consultation with us or drop us a text at 96694213. We are looking forwards to make your big day happen!